Hand painted decorative tile since 1919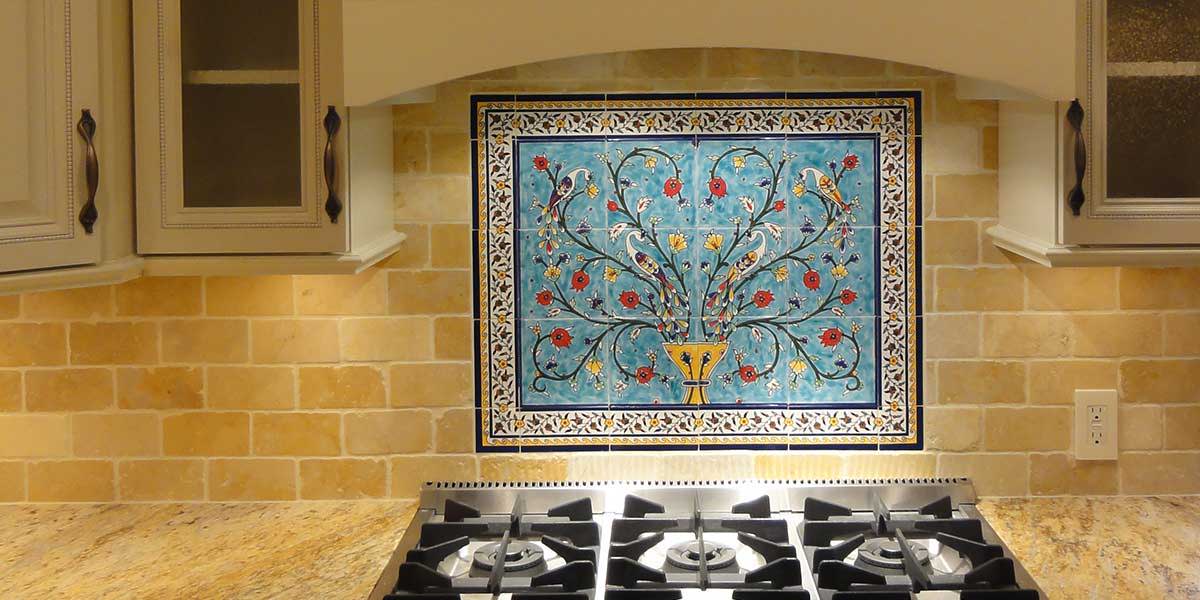 Create your beautiful focal point with our hand painted decorative tile
Peacocks & pomegranate tree tile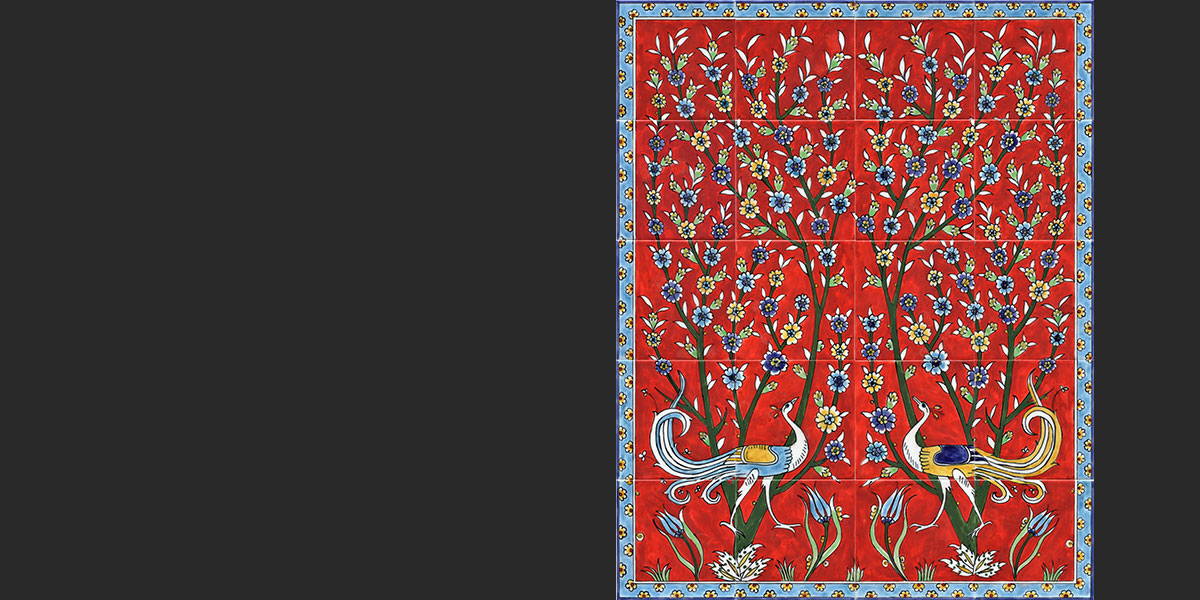 Add vibrant colors to your living space
---
Red birds hand painted decorative tile, 24 x 30 inches
103 years of hand painted decorative tile, tile murals, and unique pottery.

Ceramic tiles for kitchen backsplash, bathroom walls & fireplace surrounds.
All of our decorative tile are hand painted in our studio, with traditional designs of peacocks, birds, ornate floral patterns, trees and gazelles, adding much needed color and design to kitchen walls and backsplashes, bathroom walls, fireplaces, table tops, kitchen counter tops.
Decorative tile since 1919
In 1919, a group of Armenian ceramic artists from Turkey were invited to Jerusalem and commissioned to renovate the ceramic tiles covering the exterior walls of the Dome of the Rock. One of those ceramic artists was my grandfather, M. Karakashian, who together with his partner, established a pottery in Jerusalem in 1922... more about us
Add vibrant colors to any wall in your home

Unique designs of birds, trees, and intricate floral patterns
Meticulous attention to detail
Our decorative tiles and murals are always thoroughly checked to ensure you get the highest quality hand painted ceramic tile
Colors never fade, whether installed indoors or outdoors

The hand painted touch is always higher in quality than the machine made
John & Claudia's fireplace decorative tiles
Long Beach, CA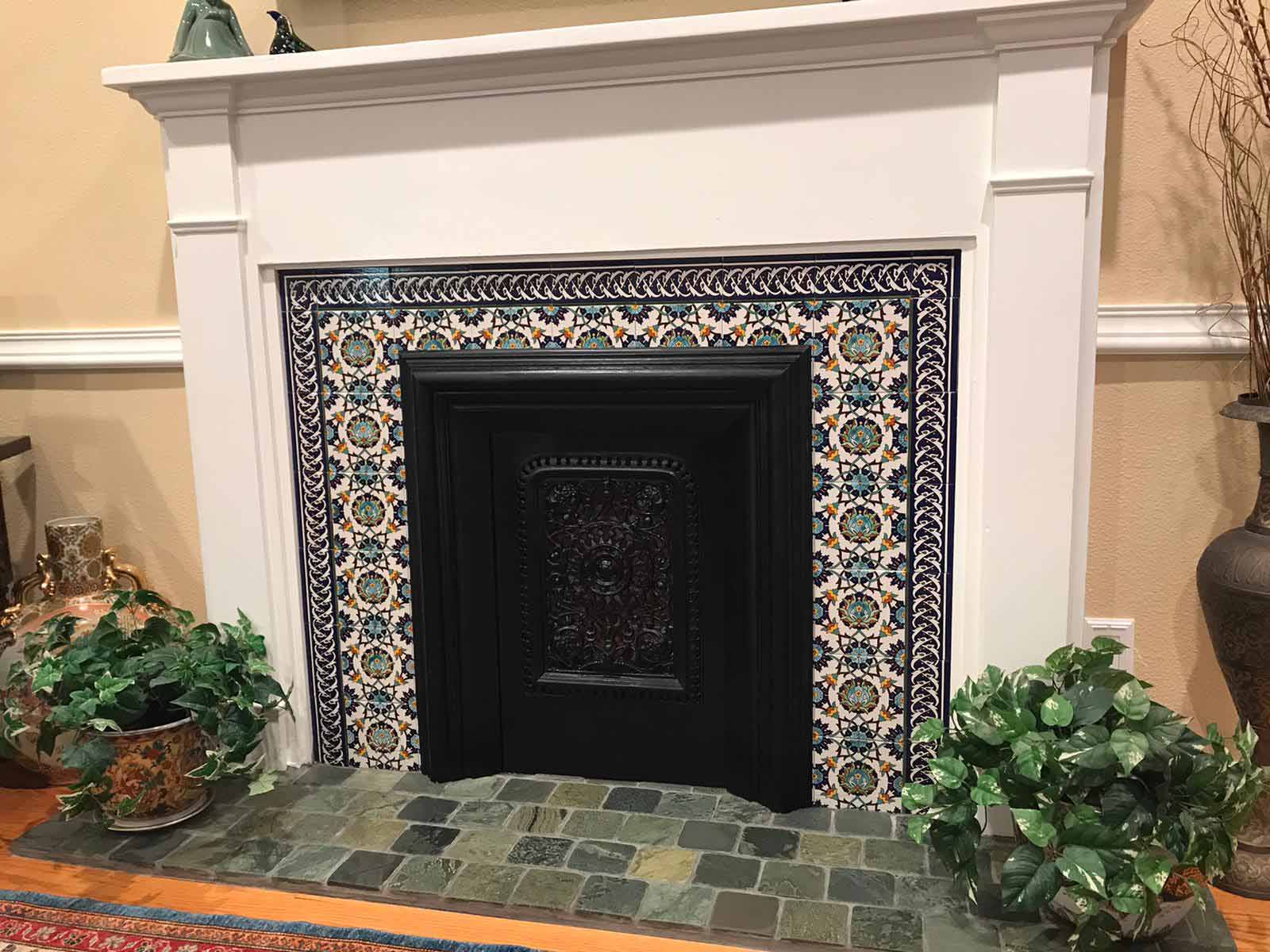 "Dear Jerusalem Pottery, we are so absolutely thrilled with our fireplace surround tiles! They really added a classic and impressive touch to our fireplace, which has now become the center of our family gatherings. Thank you for the wonderful decorative tiles and service. Sincerely, John and Claudia
Michele's kitchen backsplash
Washington D.C.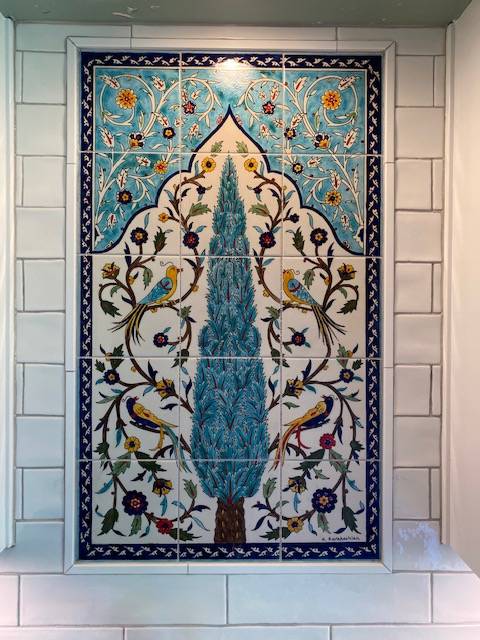 "Working with Mr. Karakashian to design our mural was a pleasure, and we could not be more delighted with the results. The hand painted tiles are truly beautiful and were so expertly packed that they arrived in perfect condition--not a chip."
"An Armenian art in Jerusalem, by Susan Daar
Among the favorite souvenir-shop items in Israel are ceramic plates and tiles decorated with fanciful plants and indolent beasts, all arranged in a lulling, rhythmical symmetry. Most of them are copies of copies that have their origin in a modest shop in the Old City of Jerusalem, and few if any, can compare with the originals. Those may be found only at Jerusalem Pottery.
For a shop with an international clientele, Jerusalem Pottery, the enterprise of brothers Stepan and Berge Karakashian, seems unduly modest. Here, against brilliantly white walls, are displayed the products of generations of traditional Armenian craftsmanship.
Against a cobalt blue background, a mandala-like Phoenix in rust brown, pale blue, yellow, green and cream, flexes its wings until the tips nearly touch. Grazing amid long stemmed flowers, a gazelle looks up, perhaps to sniff the air. On one side of an enormous, muted-green and yellow "Tree of Life", a lion falls on a frightened gazelle: on the other, two other gazelles continue to feed serenely. However modest in size, each scene is complete, and thanks to precise design and understated color, meditatively alive...
Even the glazes are hand mixed. Some, such as the striking but understated cobalt blue that appears in so many of the pieces, are based on formulas handed down by the Karakashian's father."
Tera's kitchen - Blue & white ceramic tiles
"When we remodeled our kitchen I knew I wanted a blue and while tile mural. I searched and searched and finally found Jerusalem Pottery. The mural arrived beautifully package and not one piece broken. Absolutely love it! It is my hope to go visit the store some day." Tera, OK
---
Our six inch Blue & white floral tile is a modular design, which means you can add or subtract tiles according to the dimensions you need.
In Tera's backsplash above, there are 8 central blue & white floral decorative tiles, which are surrounded by 12 border tiles and 4 corners. The dimensions are 30 x 18 inches.
Discover our Armenian Pottery
Armenian pottery, which was established by us in 1919 in Jerusalem, became a part of the local Jerusalemite art and culture ...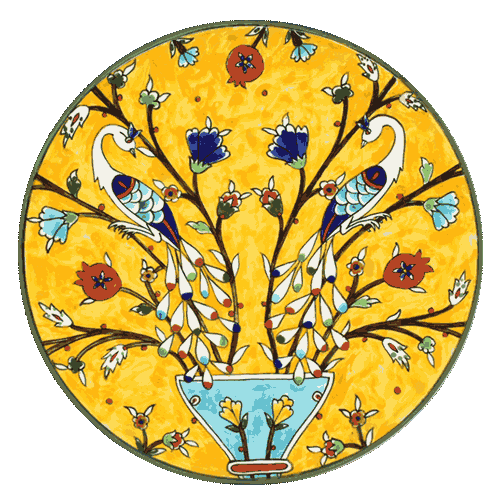 ---
For latest photos & updates, follow us on:
---